Introducing TournamentCaddie
TournamentCaddie is a modern event platform designed for event organizers planning a fun, corporate or charity golf event at a club like yours. Organizers can automatically create a mobile-friendly Website and begin collecting payments in just minutes. Our intelligent user-friendly platform takes the hard work out of managing pairings and foursomes, printing personalized event scorecards, coordinating prize table donations and much more.
...all the important stuff before they get to your course.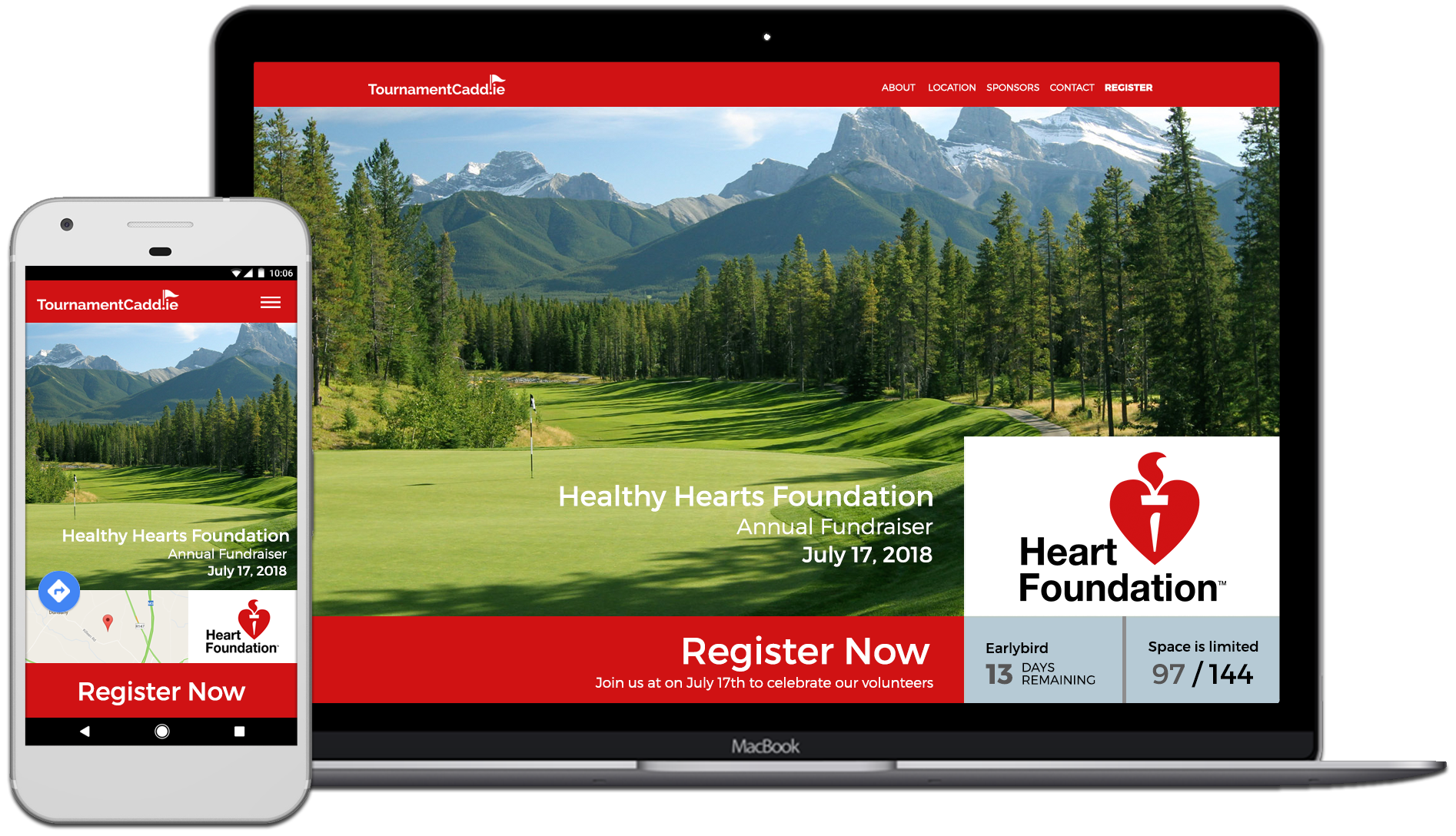 Why did we build "another" event platform?
TournamentCaddie is wholly focused on creating a great consumer registration experience for fun, corporate or charity events. We provide event organizers with a powerful, easy-to-use platform that elevates their event experience and saves them time!
Preview
How does our Club Affiliate Program work?
Sign up free and verify your club and course details.
Help event organizers save time and run more successful events by recommending TournamentCaddie.
Build your email and text marketing lists and automatically receive payments from organizers collecting registrations for events hosted at your club.
"With pairings and foursomes that practically assemble themselves I spend a fraction of the time I previously spent organizing our monthly golf outings. The platform is intuitive and easy to use and our ladies' love the streamlined registration."
Holly Schroeder, Executive Women's Golf Association - Los Angeles, CA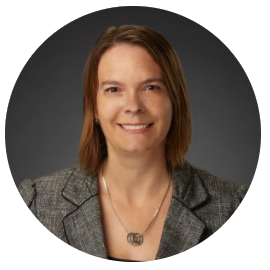 Organizers can set up events in minutes.
No credit card required. Ever.
TournamentCaddie's best-in-class event management console allows organizers to create an event in minutes.

Most features are available absolutely free, those we do charge for are automatically deducted from an organizer's event revenue as golfers register for their event - so organizers never have to float event expenses!
Golfer registrations are securely processed using Stripe, the world's leading online payment engine.

Generate incremental tee-sheet revenue for your club!
It's not just organizers and golfers that benefit from TournamentCaddie. When you recommend TournamentCaddie to event organizers hosting events at your club you create opportunities to invite golfers to play the course before their event, or include a return-visit tee-time, food and beverage or merchandise offer on every personalized event-generated scorecard.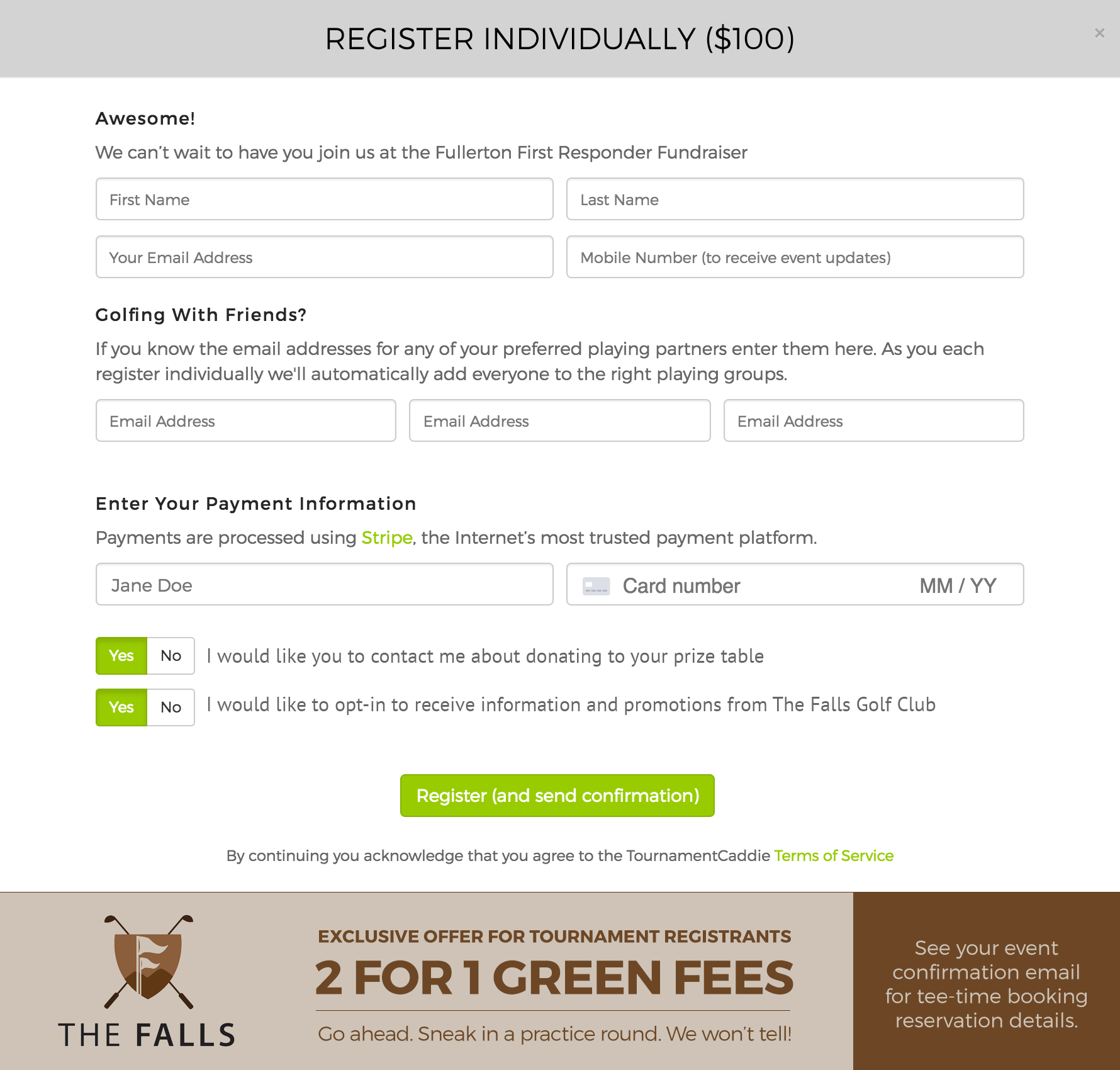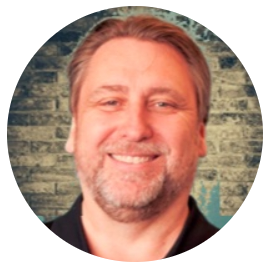 "Our annual fundraiser features almost 300 golfers at two of the area's premier courses. This year we raised over $100,000 and our golfers and sponsors were blown away with how well our event was branded using the TournamentCaddie registration platform."
Dr. Paul Brown, St. Jerome's Alumni Golf For Scholarships - Waterloo, ON
Connect with GOLFERS playing in events hosted at your club!
Build your marketing lists by collecting permission-based email and text opt-in from golfers registering for events hosted at your club.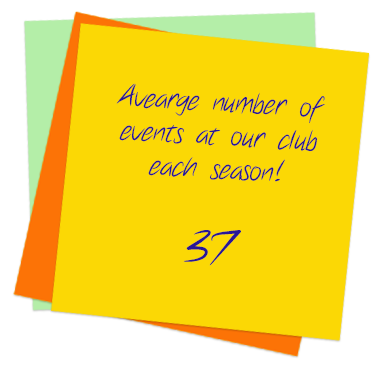 Edit events or size to estimate your potential leads
TournamentCaddie club benefits include;
| | |
| --- | --- |
| check_box | Build your customer marketing lists by automatically collecting an email and text opt-in from every golfer participating at events hosted at your club. |
| check_box | Generate incremental tee-time bookings or promote other club programs through integrated direct-to-golfer advertisements during every event registration and on all personalized event scorecards. |
| check_box | Automatically receive payments from event organizers hosting a tournament at your facility. Payments are transferred directly to your account as events generate registration revenue! |
How does my club sign up?
Participating is easy, complete the form below to create your affiliate account, complete your club details, setup your default preferences and access to your secure affiliate dashboard.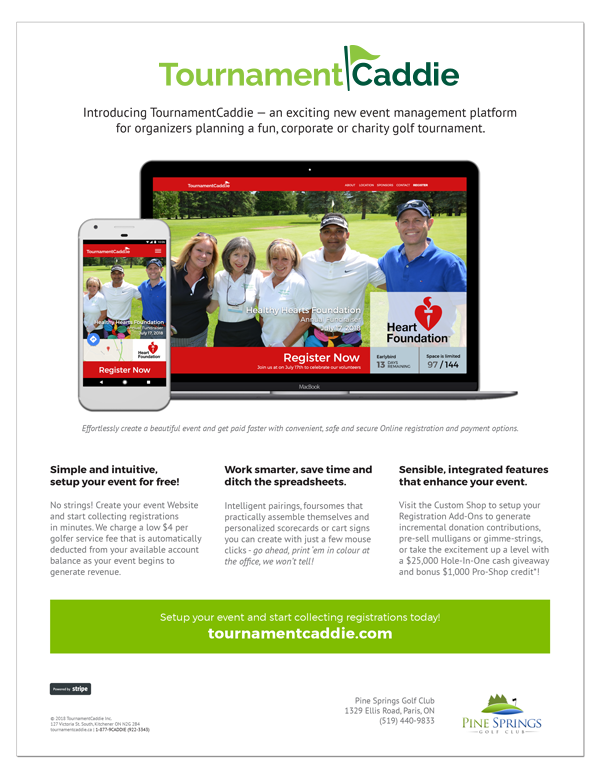 Once you're all setup, simply recommend TournamentCaddie to organizers hosting a tournament at your club - we've even got a handy personalized brochure you can download, print and distribute to event organizers.

;